Summerville Augusta Homes for Sale
Homes for Sale on The Hill
Summerville Augusta Homes for Sale
To See One of These Homes Contact
Bill Crawford, Realtor, Dream Street CSRA, Text 404 615-4721, EMAIL
Historic Summerville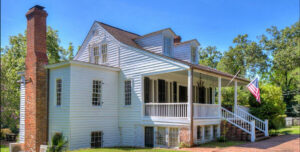 This page displays the available Summerville Augusta Homes for Sale and lets you modify your search to find what you are looking for.
The Summerville neighborhood in Augusta is known as "The Hill" to old-time Augustans.  Historic Summerville is Augusta's most architecturally significant and eclectic neighborhood in the region with about 2400 homes in a wide price range and most have the historic charm of homes from a bygone era.  
Let us begin with Walton Way, the spine of the Hill. It begins in downtown Augusta near the Savannah River then proceeds north to 13th Street.  Here at the end of the Augusta Canal is the home of George Walton, the youngest signer of the Declaration of Independence.  As Walton Way heads up The Hill to Historic Summerville, you will pass the Partridge Inn, the hotel favored by Woodrow Wilson. And, over the years, many other distinguished guests.
There are many churches along Walton Way, the oldest being The Good Shepard and its Episcopal Day School. Next comes the entrance to Augusta University's Summerville Campus. It is surrounded by beautiful homes of diverse "old house" architecture.
The northern end of the neighborhood is Highland Avenue.  To the left is Daniel Field, a general aviation airport.  To the right takes you to the Augusta National Golf Course.  On the way, you will pass the Surrey Center's specialty shopping area. Here The Hill has its own Post Office, drug store, gourmet restaurants, and shops galore. My favorite place is White Horse Liquors!
Central Avenue runs from Highland Avenue at the top of The Hill at Daniel Field to the Medical  Center on 15th  Street.  During the first mile, Central has a planted median and is lined with century-old homes. The median ends at the historic Fire Engine Company #7, an example of Spanish Colonial Revival architecture built in 1914. Further down Central just past Heard Avenue, you will arrive at Buona Coffee – artisan roasted -the best in Augusta.  It is housed in a nineteen thirties Craftsman Bungalow. I am ready to help you with your valuable "old house".
See the Crrent Summerville Homes for Sale Below
You May Make Changes to the Search Below
Dream Street CSRA, LLC is a Veteran owned company by Jim and Judy Crawford who also own Dream Street Properties, LLC which serves the Atlanta and north Georgia markets.